See on Scoop.it – AnnBot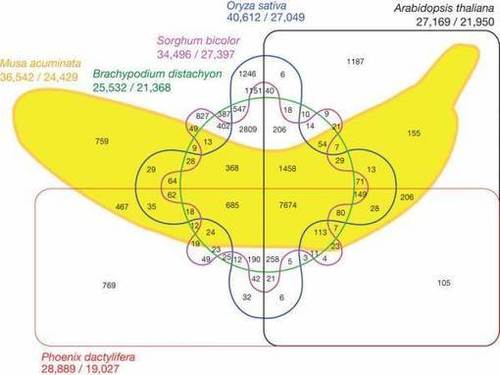 "It didn't take long after the journal Nature put online the article on the banana genome sequence for bloggers to start commenting on the Venn diagram featuring a a bright yellow banana. David Ng at Popperfont qualified it as, "quite possibly the most complicated (and therefore awesome) Venn Diagram ever". Jonathan Eisen, the scientist who coined the term phylogenomics, said that it was "perhaps the best genomics Venn diagram ever", while Joe, of the It's okay to be smart blog wrote that it is "a pretty genius way of delivering a bunch of banana data all at once". He added that it was the first time he ever saw a six-way Venn diagram. Joe is right to be impressed, but the truth is that this is not the first ever six-way Venn diagram.
As a graphic designer correctly noted, the diagram was inspired by Edward's six-set Venn diagram. I can confirm this because the bioinformatics scientist who did the number crunching and the Venn diagram for the Nature article is a Bioversity colleague.
It says a lot about the banana that its distinct shape would make people notice an otherwise arcane diagram. "
See on www.promusa.org